Connect to Brazil with Teletandem
This is an exciting project that brings together international students in the UK studying at Queen Mary University of London with students studying at UNESP in Sao Paulo state in Brazil for a series of five hour-long Teletandem interactions via Skype. Our third interaction will take place in May and June.

Connect to Brazil with Teletandem from Queen Mary Language Centre on Vimeo.
 'a good way to improve my English, but also to broaden horizons' 

Queen Mary Teletandem participant



Improve your English language skills and help others improve theirs

Find out about student life in another country

Learn more about Brazil, Latin America's largest country


Develop your global knowledge and understanding

Make new friends both at Queen Mary and in Brazil

Teletandem 'helped me draw out and unlock my English'

-

UNESP

Teletandem participant
Interested in taking part? Contact Will Hutton in the Language Centre

What is Teletandem?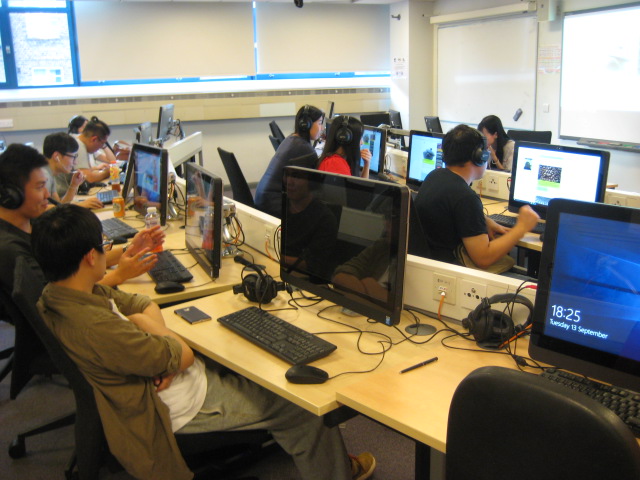 As you can see in the picture, a Teletandem interaction brings students who are in different parts of the world via a computer-mediated interaction. It is a great opportunity to build a purposeful relation with a fellow student in another part of the world. Traditional Teletandem is a language exchange, but in this project both participants will be using English throughout the interaction.
Teletandem rests on two key principles: autonomy and reciprocity. Learners work together in partnership in order to achieve their learning goals. Learners are expected to take responsibility for deciding what they want to achieve together during their interaction. The interaction is online - using platforms such as Zoom, Skype and Facebook - but the connection between particpants is very real.

QMUL/UNESP's Teletandem collaboration is distinctive in that it focuses on English as a Lingua Franca in a university context. English is the main language used throughout the session and participants need to focus on developing both their linguistic understanding and their cultural understanding. It can be a very rich learning experience.
Teletandem 'helped me improve my skills'

The role of the teacher in Teletandem is to act very much as facilitator - to set up the interaction, to be there to provide support and suggestions and to keep the interaction on track. The teacher also plays a vital role in the orientation stage which takes place before each interaction and the mediation stage that takes place immediately after the interaction. The orientation stage establishes - through discussion - the general principles of Teletandem and the particular objectives for each session. The mediation stage provides an opportunity to reflect on the interaction and to ask the teacher questions both on points of language and culture.

'There is an atmosphere of camaraderie with the stranger that pleases me very much'
Interested in taking part? Contact Will Hutton in the Language Centre

When and where
Don't worry if you missed the first interaction on the 18th of May. We are still looking for participants for the second interaction on Thursday the 25th of May.

When
5:00pm 25th of May (Thursday) - Orientation. This stage is essential not only to test the equipment, but also to think about and discuss how to make the most of the interaction.

The interaction will start at 5:30pm UK Time/ 1:30pm Brazil Time on Thursdays as follows:

1 Thursday 18th of May

2 Thursday 25th of May

3 Thursday 1 of June

4 Thursday 8th of June
No moderated session on 15th of June as it is a national holiday in Brazil
5 Thursday 22nd of June
Each session will end with a mediation stage which provides students with an opportunity to talk together about their intercaction with other participants and the teacher. The mediation stage will last about 15 minutes.

At this time of the year, Sao Paulo State is four hours behind the UK.

Sessions will be moderated by Daniela Garcia (UNESP) and Will Hutton (QMUL)
Where
The Queen Mary sessions will take place in Language Lab 3 in the Bancroft Building
There are twelve places available for this project. (i.e. 12 students from Queen Mary and 12 students from UNESP)
Interested in taking part? Contact Will Hutton in the Language Centre

Partner Institutions
Universidade Estadual Paulista – Unesp is a public university with 24 campuses spread throughout the State of São Paulo, a major economic power in Brazil. Unesp is a research intensive university, ranked among the best in the country and has received international recognition for the quality of its research and academic activities.

Queen Mary University of London is one of the UK's leading research-focused higher education institutions. With 21,187 students, 4,000 staff and an annual turnover of £300m, it is one of the biggest University of London colleges. 
We teach and research across a wide range of subjects in the humanities, social sciences, law, medicine and dentistry, and science and engineering. Based in a creative and culturally diverse area of east London, our main site in Mile End is one of the largest self-contained residential campuses in the capital.